La Cueva.

Arquitectura y pasión por la naturaleza.

Ubicada en el Parque Nacional Maderas del Carmen, al norte de Coahuila, existe una reserva silvestre que conjuga la pasión por la conservación de la fauna y el placer de disfrutar la naturaleza a través de la arquitectura.

La reserva ecológica "Pilares" es un terreno de 40 mil hectáreas dedicadas a la conservación de especies en grave peligro de extinción y la proliferación de algunas que ya habían desaparecido en México. Además, es un oasis del mundo actual; un lugar aislado del desarrollo urbano, ligado a su contraparte Texana ­el parque nacional Big Bend­ por la majestuosidad de la Sierra Madre Oriental y la pureza del ecosistema.

En este contexto surge "La Cueva", un proyecto arquitectónico que nace con la idea de crear un espacio neutro, de convivencia y contemplación, con una fuerte relación a lo salvaje de una zona donde el venado, el oso negro, el borrego cimarrón, el antílope y el indio americano transitan libremente como si allí el tiempo siguiera sus propias reglas.

Como en la arquitectura vernácula, la obra responde directamente al sitio donde se emplaza, con volúmenes básicos y hasta primitivos que se levantan con materiales de la región, obteniendo del paisaje sus colores y texturas. El sentir del proyecto es como aquel al entrar a una cueva, parcialmente enterrado en el suelo, provee refugio del exterior para disfrutarlo en un ambiente acogedor.
The Cave.

Passion and architecture for nature.
In Mexico's northern border, inside the National Park "Maderas del Carmen", there's a natural reserve that fuses the passion of fauna conservation and the pleasure of enjoying nature through architecture.

The ecological reserve "Pilares" is located in the northern region of the state of Coahuila, in a 40,000 hectares (99,000 acre) land that is fully dedicated to the conservation of endangered species and the reproduction of others that had already disappeared from mexican territory, like the Bighorn sheep. Furthermore, this is an oasis in the contemporary world: a place isolated from urban development and linked to it's Texan counterpart (The National Park Big Bend) by the greatness of it's mountains and the pureness of the ecosystem.
In this context emerges "The Cave", an architectural project that materializes the idea of creating a neutral space, one for socialization and contemplation, with a strong relation to the wild of a zone where the deer, the black bear, the bighorn sheep, the antelope and the american indian transit freely like if time follows it's own rules there.

Like in vernacular architecture, the building responds directly to the site where it's emplaced, with basic and even primitive volumes that rise with materials from the region, gaining color and texture right from the landscape. The feeling while visiting the project resembles to that of a cave, partially buried into the ground, providing a shelter from the exterior and allowing the user enjoy it from the warming interior.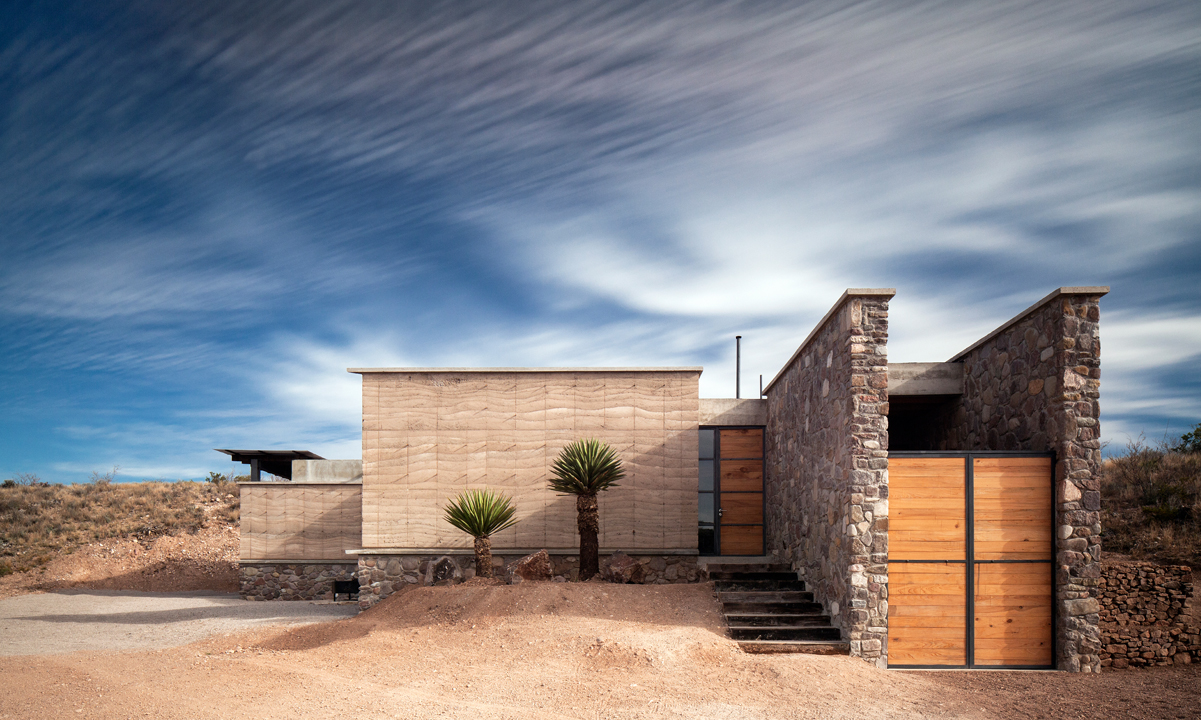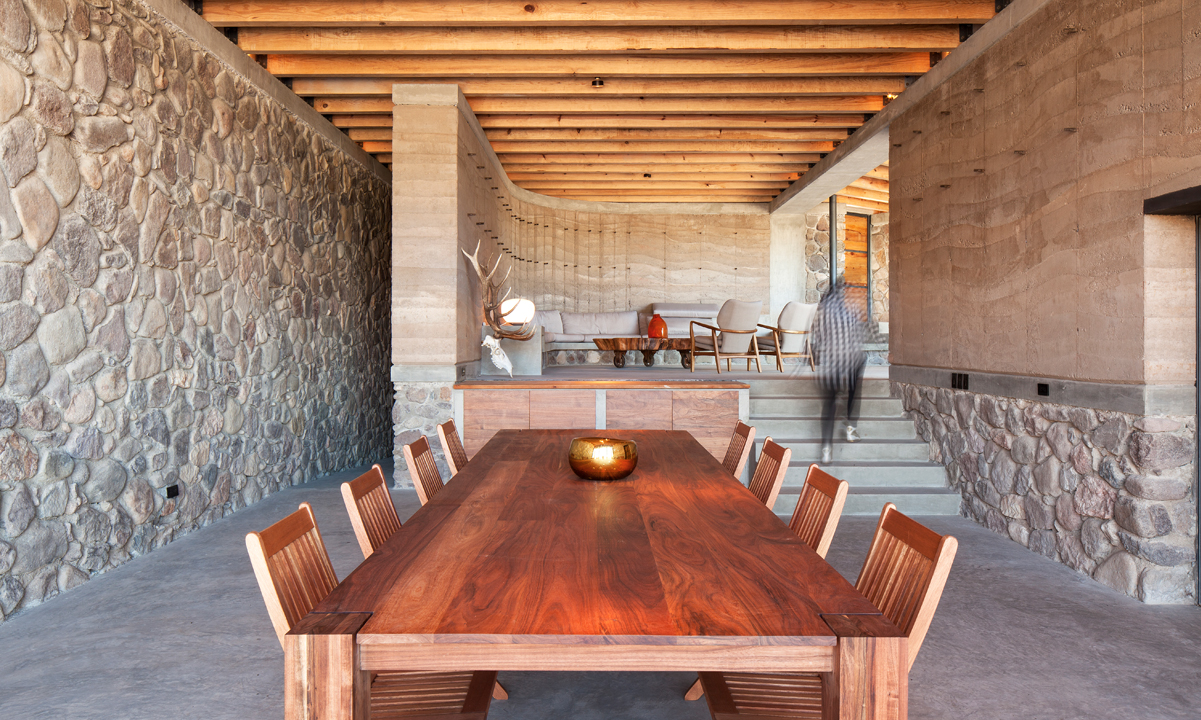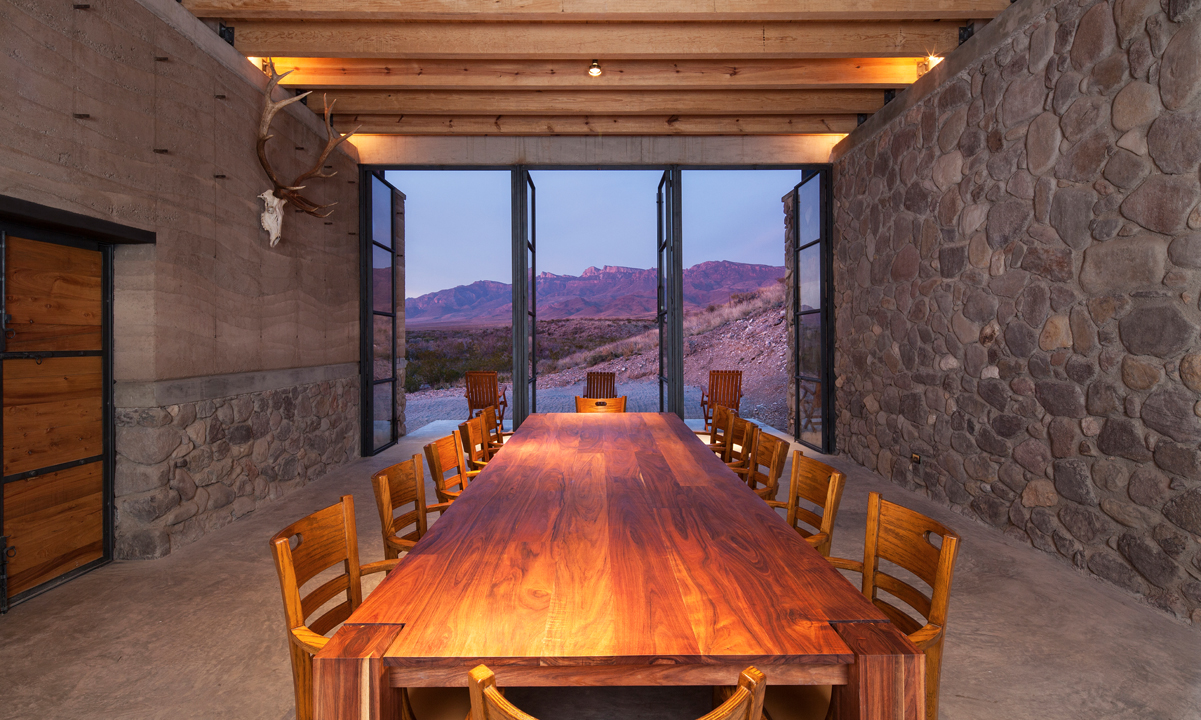 La orientación del edificio provee de luz natural del norte y dirige las vistas principales, a través de dos terrazas exteriores, hacia los picos más altos de la montaña. Al interior, el programa incluye un gran comedor/sala de juntas, una amplia estancia, un desayunador, medio baño, una cava para vinos, una cocineta y un espacio semi techado para asadores.

Para realmente conocer este proyecto, es preciso comprender la historia de sus materiales y procesos de su gestión. Por la incomunicación y la naturaleza del sitio, se optó por utilizar y reutilizar los recursos de la zona, logrando que el 90% en peso de los materiales se hayan obtenido de ranchos y bancos de arena en un diámetro menor de 10 kms.

Las láminas y durmientes se rescataron de antiguas infraestructuras en la región. Los muros se conforman de elementos del lugar, tierra y piedra se trabajan en vertical después de su extracción horizontal. El sistema constructivo combina concreto, piedra de río ,madera de pino y tierra apisonada, elementos ricos en textura que lucen, como el paisaje, multicolor durante el atardecer.

Además, considerando que el despacho radica en Monterrey, diseñaron con una lógica de construcción eficiente para mantener una supervisión remota exitosa, resultado visible a través del lenguaje honesto, aparente y simplista de los elementos arquitectónicos.

Kenji Riviera, líder del despacho, cuenta que su mayor satisfacción fue disfrutar de retos nuevos y de tomar riesgos durante el desarrollo. Ya que inicialmente existía un proyecto, una locación y una expectativa para el centro de visitas, pero todo cambió cuando la propuesta de Greenfield conceptualizaba otra idea, con una nueva ubicación y una visión arquitectónica mucho más ambiciosa.

Proyectos similares son escasos en el mundo, pero dado el riesgo de extinción que corren cada vez más especies, es también una tendencia en crecimiento. En este caso, la arquitectura nos recuerda tiempos pasados y también, promueve la reflexión de nuestra propia especie para tiempos futuros.
The orientation of the building provides natural light from the north and directs its main views, through exterior terraces towards the highest peaks of the Sierra Madre Oriental. In the interior, the program includes a large dining room/boardroom, a living room, a breakfast area, bathroom, a wine cellar, a small kitchen and a partially covered space for grills.

To fully know this project, it is precise to understand the history of its materials and processes of development. Because of the nature and isolation of the place, it was important to use and reuse the resources of the area, achieving that 90% in weight of all materials was collected from ranches and sandbanks located within a radio smaller than 10 km.

The metallic corrugated sheets and hardwood from abandoned rail tracks were found in the area. The walls are made of local materials: earth and stone are worked in vertical planes, after being extracted from their horizontal position. The constructive system combines river rocks, pine wood, rammed earth and concrete, which are elements rich in textures that mimic the multicolor landscape that can be perceived during sunset.
Considering that the design firm is based in Monterrey, the entire construction process had to be envisioned with an efficient logic in order to be able to keep a successful remote supervision. This can be seen throughout the honest language, apparent and simplistic architecture elements.

Kenji López Rivera, the firm's leader, considers that his highest satisfactions were the new challenges and risks that arose during the development of the project. For instance, at the beginning there was another architectural project, with a different location and limited expectations for a visit center...suddenly, everything changed when Greenfield's proposal conceptualized a whole new idea, one with a new location and a much larger architectural ambition.

This kind of projects are scarce in the world, but due to the rising extinction risks of many species, it is also a growing trend. In this case, architecture reminds us of ancient times, and also, promotes reflection of our own specie for the future.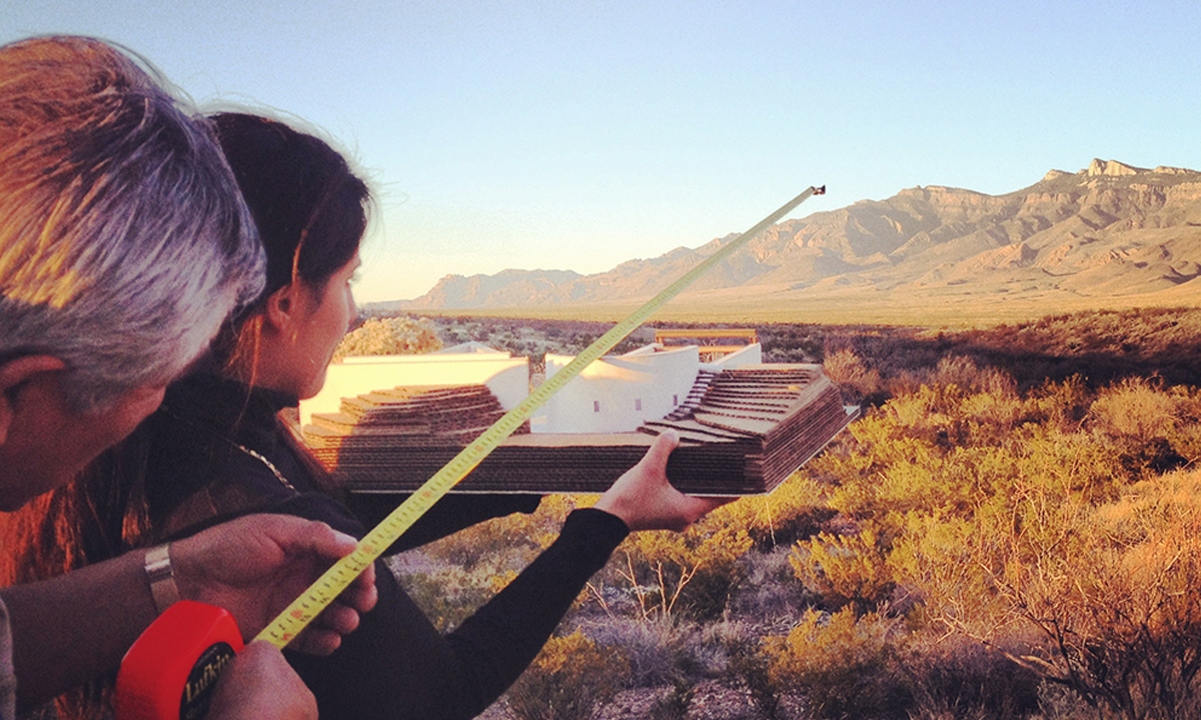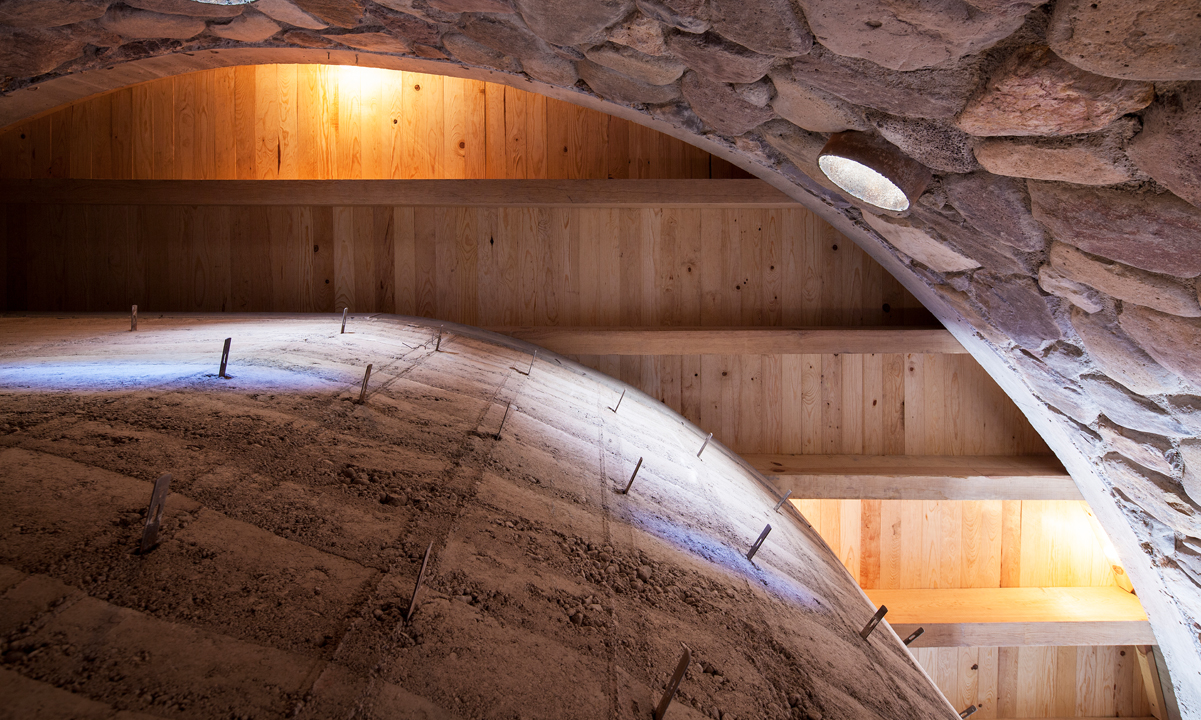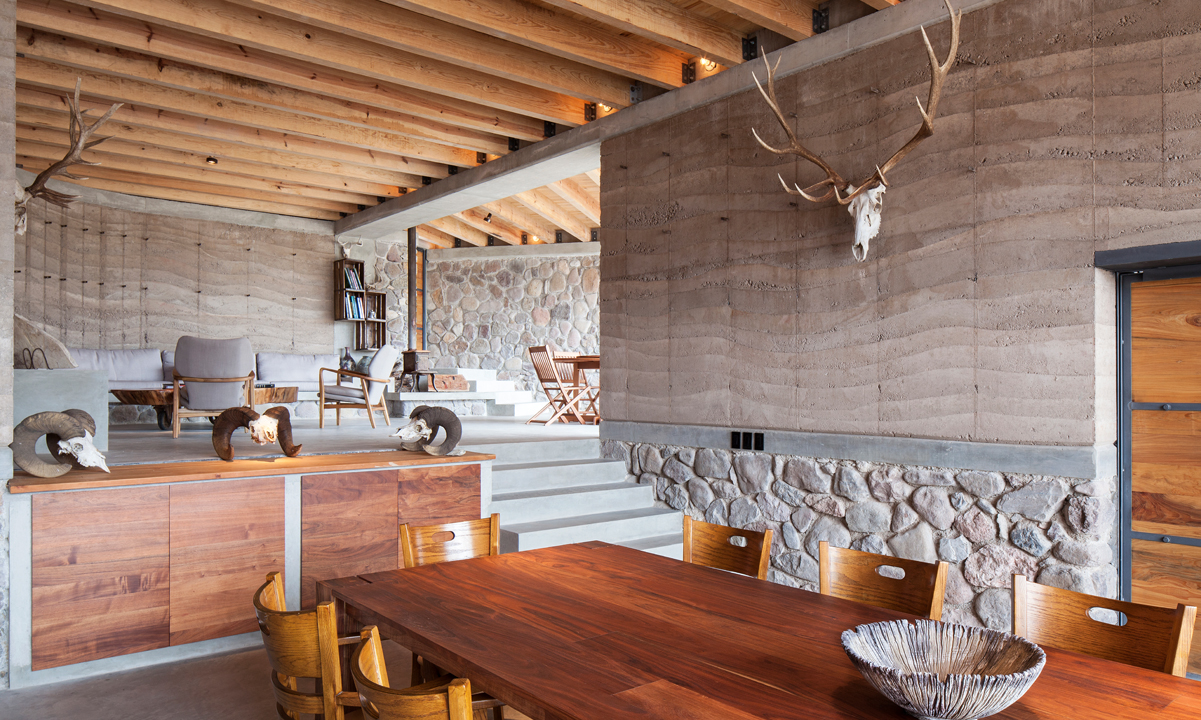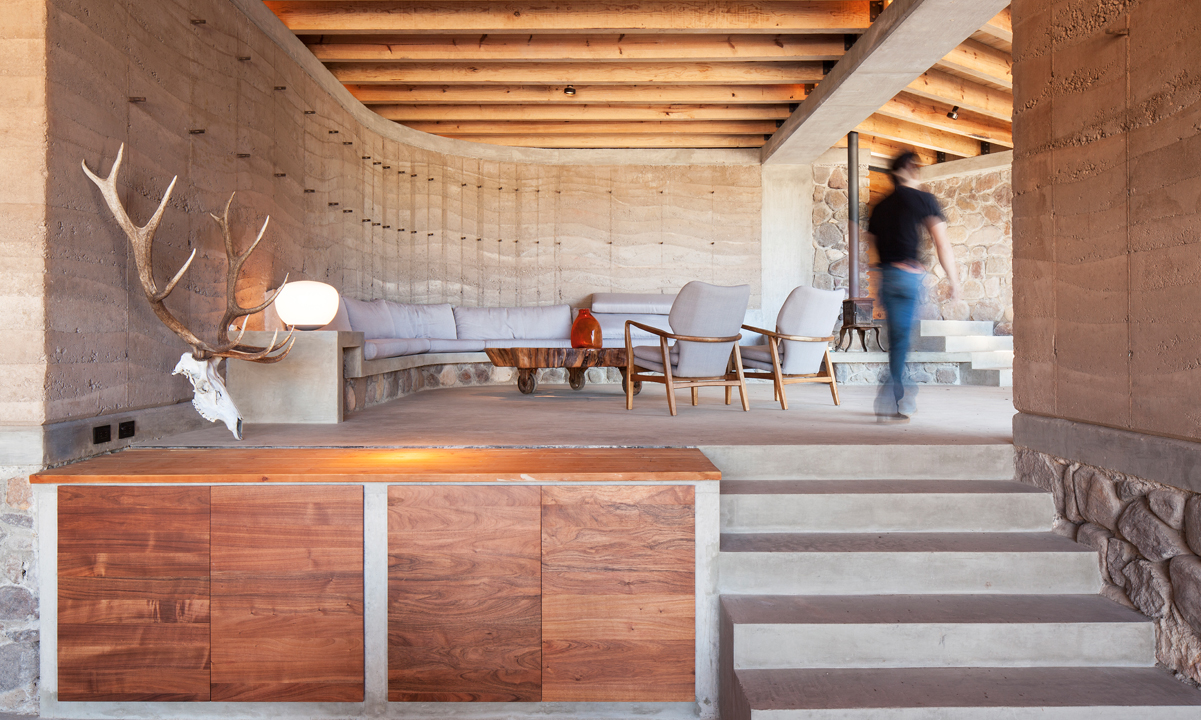 FICHA TÉCNICA:
Proyecto: Cueva en Pilares.
Ubicación: Coahuila, México.
Tipología: Villa
Cliente: Pivado.
Año: 14­2015
Área: 0 M2
Arquitectura: Geenfield ­ Kenji López.
Colaboradores: lisa Avila , Esmeralda Salinas , Antonio Flores ,Juan Tellez ,Julia Briones, Dolores Maximino, Manuel Cruz.
Fotografía: Documentación Arquitectónica ­
Adrián Llaguno. www.documentacionarquitectonica.com
Texto: Mauricio Mastropiero

Disclaimer
*Todos los elementos animales en las fotografías, como astas y cuernos, fueron recuperados de especies recientemente fallecidas por causas naturales.
Technical sheet:
Project: The Cave in Pilares.
Location: Coahuila, Mexico.
Typology: Villa.
Client: Private.
Year: 2014
Area: 260 sq meters.
Architecture: Greenfield - Kenji López Rivera -
Collaborators: Melisa Avila , Esmeralda Salinas , Antonio Flores ,Juan Tellez ,Julia Briones, Dolores Maximino, Manuel Cruz.
Photography: Documentación Arquitectónica
Adrián Llaguno - www.documentacionarquitectonica.com
Text: Mauricio Mastropiero

Disclaimer
*Every animal element in the images, e.g. antlers and horns, were recovered from recently deceased specimens that died of natural causes.